The MLG International Faceoff is an MLG event that hopes to crown the best Rocket League team in the world.
MLG International EU vs NA Faceoff

Tournament Information
Organizer
Major League Gaming
Location
Online
Format
Event Format
Prize Pool
$300
Date
08/25/2015
Start Date
08/25/2015
End Date
08/25/2015
Website
MLG
Stream
Stream
Overview
In an attempt to make the best Rocket League team in the world known, MLG is hosting an EU vs NA tournament where some of the biggest superstars from the scene can contend for cash prizes and bragging rights.
Format
Best of 7 matches
Maps will be chosen using the Mapvote System
Match Time: 5 Minutes
PS4 and PC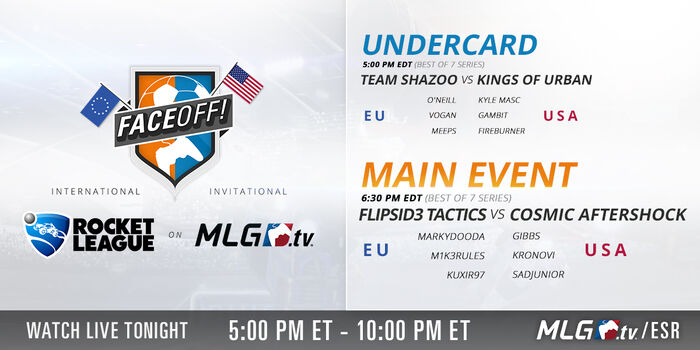 Image from MLG
Participating Teams
Results
TBA!